Infrastructure & Facilities
---
The architecture department having good infrastructure which includes four (4)drawing halls, one(1) lecture hall, a Model Making Room& building materials display lab,Surveying lab and a departmental library brimming with all kinds of reference material and books.
THE LECTURE HALL
---
The lecture hall is spacious to ensure that each student has sufficient spaceand having necessaryfacilities for addressing a large audience. Display boards have been put up in all the rooms, which serve as platforms for encouraging creativity and increasing awareness among the students. Class rooms are also designed to facilitate the conduct of student's seminar and group discussions.
---
DRAWING HALLS
---
The drawing halls are well ventilated and have good quality of light condition.All drawing halls are spacious & fully furnished withdrafting tables and stools to perform all drawing works by the students & also the review of students work & group discussions
---
MODEL MAKING ROOM& BUILDING MATERIAL DISPLAYLAB
---
A model making room is available for the students to prepare models of their design works. In order to update the students, knowledge on buildings materials, and their application in construction, samples of building material, along with literature are collected and displayed also in this lab. Material samples are being added periodically.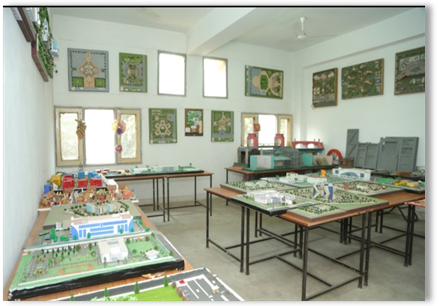 ---
The Survey Lab
---
The department have a well-equippedsurveying lab with allthe instruments and tools that students use in the surveying. Students learn techniques for gathering field data with both traditional and modern instruments, thendemonstrate their proficiency on weekly lab exercises. A well equipped surveying lab consisting of theodolites, dumpy levels, prismatic compass, plane table surveying equipments, chain surveying equipments etc. to facilitate training the students about its surveying and levelling.
---
COMPUTER LAB
---
The department have well equipped lab with internet facility to provide the knowledge of computer aided design software which is widely used in industry by architects, project managers, engineers and professionals.
---
SLOGAN WRITING COMPETITION ON EARTH DAY
---
Slogan (also known as a tagline) is a catchy phrase or a few words arranged in a specific way to describe. A perfect slogan is drawn by one of our student in online slogan making competition on the occasion of earth day during lockdown.
---
ESSAY WRITING COMPETITION ON EARTH DAY
---
The essaysareby our students on the occasion of online composition held on earth day 22nd March,where they expressthe specific ideas and then support it with facts, statements, analysis and explanations.
---
MOTHER'S DAY CELEBRATION
---
Mother's Day celebrates motherhood and the contribution of mothers in society.. In this context,0nline card making competition at department level has been organized where Students have cards prepared for their mothers by themselves.
---
Engineer's Day
---
4th March is celebrated as 'World Engineer's Day" for a Sustainable World in the institute as tribute to the greatest Indian engineer and Bharat Ratna SirMokshagundamVishweshvaraya (popularly known as Sir MV
---